Quick Start Guide
Installation and Registration
First, download the latest version of ClamXAV, and open your Downloads folder.
Double click ClamXAV_3.6.1_10182_Installer.pkg to start the installation process
Follow the on-screen instructions to complete the installation.

At one point, you may be asked to enter your admin name and password. This is the name and password used to login to your computer, used by the operating system to confirm that you have permission to install apps.

Once the installation is complete, the ClamXAV app will start, and you'll see a window asking you if you'd like to use the 30 day Free Trial, purchase ClamXAV, or enter an existing registration key.

If you select Purchase ClamXAV, you can complete the entire order process within the app and it will automatically install registration details.
If you already have a subscription, click I've already bought ClamXAV, and copy/paste your registration details from your fulfillment email. Alternatively, you can use your automatic registration link found in your fulfillment email.
If you already have a subscription, but have lost track of your fulfillment email/registration key, you can retrieve it using our Lost Key Retrieval service.

ClamXAV will then begin updating its Malware Database– this is how it knows what malware to look for.
App Overview
When you launch ClamXAV, you'll see a main window with 5 primary sections. Here's what they are, and what they do: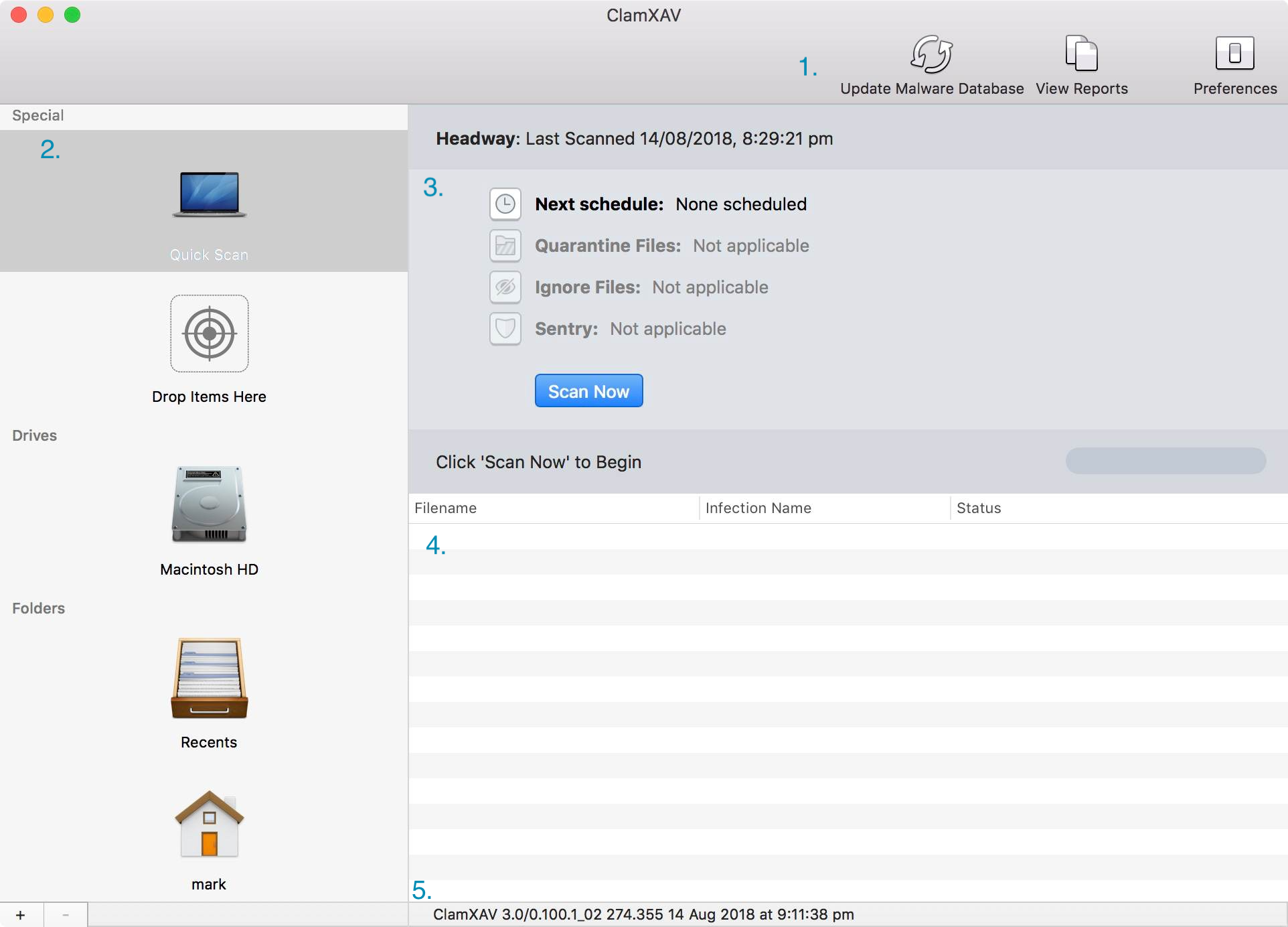 Toolbar: allows quick access to frequently performed actions
Source List: allows you to keep a list of favourite items to scan
Settings Area: this is where you can change any scan settings related to the currently selected item
Infection List: shows details of any infected files found during a scan
Status Area: the very bottom of the ClamXAV window displays the version of ClamXAV you've installed and the date of your latest virus definitions update
Dealing with Infected Files
The name of any system infection or infected file will be listed in the Infection List

To deal with the infection, choose one of the following options:

Delete: if you don't need the file
Quarantine: if you're not sure and want to check first
ClamXAV 3 will automatically quarantine any infected file that it finds, unless you've changed this via the Quarantine options in the Settings Area. Don't worry if you've already started the scan, you can still change the quarantine setting whilst a scan is ongoing.
Oops
Be careful with Quarantine and Delete as these will move the files on your hard drive. If you delete or quarantine a file by accident, simply click the Restore button beside the file in the Infection List– don't worry, you can't put back a system infection.
If the file isn't showing up in the Infection List, you'll still be able to find it in the Reports Window; simply click View Reports on the toolbar.