General Preferences
Feel free to modify ClamXAV's preferences settings so that they work for you - we've pre-configured them, but you're in charge!
Alert
The first two options sound an alert and display a notification if any infected files are found or when a scan completes - so you can safely go away and do something else while ClamXAV does its thing and the results will be there waiting for you when you get back.
Count infections on Dock icon simply places a badge on top of the ClamXAV icon in the Dock, so you can see at a glance how many infected items were found.
Show ClamXAV menu item
This allows you to hid the ClamXAV menu item if you're short on real estate at the top of your screen. Don't worry, ClamXAV and Sentry will both still work even if you disable the menu item - and you won't miss out on any notifications either.
Animate ClamXAV menu item
Untick this option if you like seeing the menu item, but don't want to be distracted by the animation that tells you that ClamXAV is doing its thing.
Update Preferences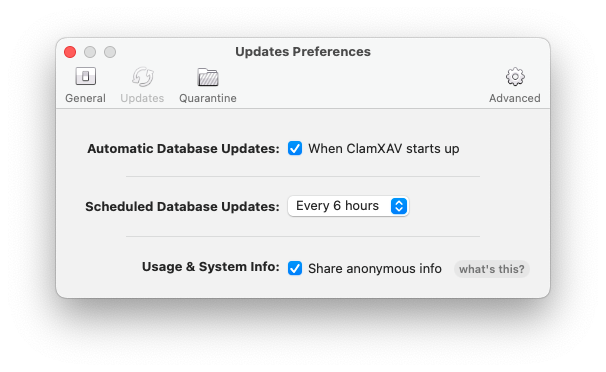 Automatic Database Updates
Keep this turned on to allow ClamXAV to ensure that its malware database is always up-to-date. When this is enabled, the database will be updated every time you start up your computer, log in, or open ClamXAV.
Scheduled Database Updates
Our malware database can be updated several times a day, so choose an update frequency that suits you. We strongly advise you to keep at least one of the above options enabled
Usage and System Info
Sharing your anonymous information about the hardware you're using (iMac, MacMini, MacBook Pro, etc) and also your processor, memory and version of macOS is extremely helpful to us. The more we know about the technical capabilities of your machine, the better we can support you with the future versions of ClamXAV.
Rest assured, you cannot be personally identified by any of this information, but feel free to check out our privacy policy to see how we use it.
Quarantine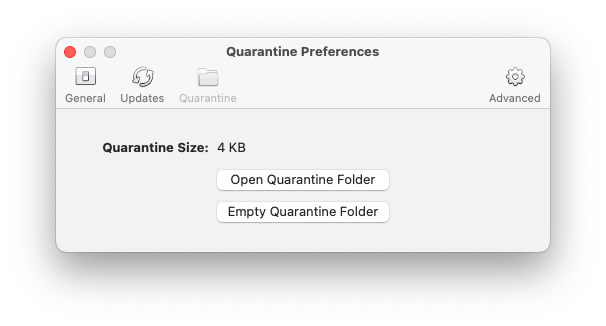 Auto-Quarantine
By default, ClamXAV will automatically quarantine infected items it encounters. This allows you to gather together the infected items for inspection in case you want to keep anything.
The Open Quarantine button displays the contents of the items in quarantine.
If you've gathered a number of infected items over time, the quarantine folder may get quite large. You can empty it quickly and easily by clicking the Empty Quarantine Folder button.
Advanced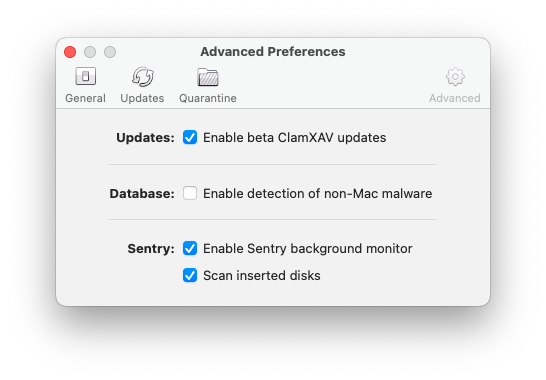 Enable beta ClamXAV updates
Before publicly releasing an update, we go through a number of test version to iron out bugs, test functionality new features. Enable the checkbox if you'd like to take part in this process. Remember, by the very nature of test software, it's highly likely to contain bugs and incomplete features.
Sentry
Enable Sentry background monitor
Sentry is the part of ClamXAV which monitors your computer in the background and scans new files as they land on your computer. Keeping this option enabled is the best way for ClamXAV to protect you and your Mac.
Scan inserted disks
If you use external hard drives, USB memory sticks, CDs/DVDs, disk images etc., then this option will allow ClamXAV Sentry to scan those items as they're connected to your Mac.